Shameless fundraising for the best political newsletter around.
From CounterPunch:
This is Why Henry Kissinger Hates Us.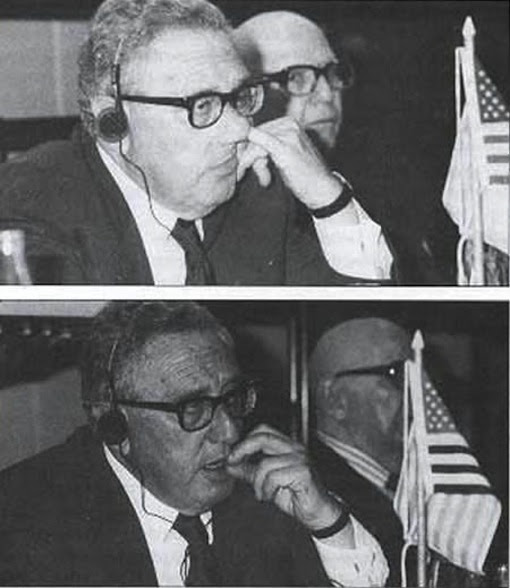 Over the course of 22 years, we've published many unflattering stories about Henry Kissinger. We've recounted his involvement in the Chilean coup and the illegal bombings of Cambodia and Laos; his hidden role in the Kent State massacre and the genocide in East Timor; his noxious influence peddling in DC and craven work for dictators and repressive regimes around the world.
We've questioned his ethics, his morals and his intelligence. We've called for him to be arrested and tried for war crimes. But nothing we've ever published pissed off HK quite like this sequence of photos taken at a conference in Brazil, which appeared in one of the early print editions of CounterPunch.
The publication of those photos, and the story that went with them, 20 years ago earned CounterPunch a global audience in the pre-web days and helped make our reputation as a fearless journal willing to take the fight to the forces of darkness without flinching.
We don't beg very often. In fact, we only do it once a year. But when we do, we really mean it. Either we meet our fundraising goal over the next three weeks or we'll be forced to drastically curtail the operation of our website.
To contribute by phone you can call Becky or Deva toll free at:
1-800-840-3683
Thank you for your support, Jeffrey, Joshua, Becky, Deva, and Nathaniel